Article from Movieline February 21, 1986.
Big thanks to Jim Mix for the scans.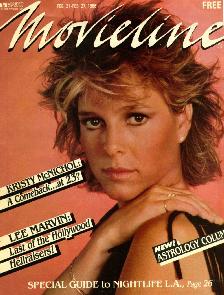 Comeback for a young star
Dream Lover is a new beginning for Kristy McNichol
by Julie Richard
Kristy McNichol was huddled in a chair, stroking her miniature dachshund Rocky, who was snuggled on her lap. Dressed entirely in black, wearing a short coat, thick tights and ankle boots, with her blonde-streaked hair slightly tousled, she looked like an orphan from a storm. It was rainy and chilly in Los Angeles but neither the weather, nor the 20-minute delay in meeting her visitor seemed to disturb the young actress' mood. She was friendly and animated as she talked about her latest film, Dream Lover, and in particular about the movie's director Alan J. Pakula.
"He says this is going to be my showcase," she revealed with a tentative smile. It's a smile that flashes across her face quickly but with more frequency when she becomes more relaxed. "He was really sweet about it. He really wanted the best for me. Even now, with the film completed, he said, 'If you want to show this to a director and want me to talk to them about you, you know I'll be there to do that.' "
McNichol seems pleased but slightly surprised at the director's show of nurturing confidence. "Alan is so sensitive to actresses. We just clicked. There was something almost supernatural about working with him. I don't mean lights flickering or anything like that... It's just the way we worked together. There was so much energy there. The reason I wanted to do this film more than anything else was that for a very long time I'd been doing roles in movies and TV films that were really one kind of girl. They were just good girl roles rather than a girl that has a lot of problems or is strange in some way. When I read the script I couldn't put it down. I really wanted to do it."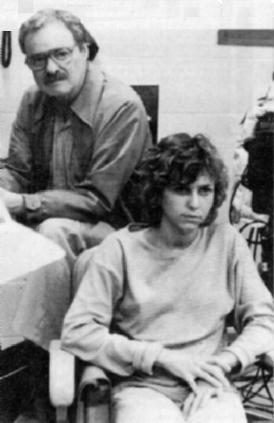 McNichol got her wish after extensive meetings with Pakula. She said she received a call from her agent telling her she had been chosen for the part while vacationing in Hawaii with a friend. "Then," she says, it was party time, one big celebration."
But it wasn't always party time for the young actress, who won two Emmys and a Golden Globe for her role as the teenaged Buddy on the acclaimed television series "Family". In some ways, Dream Lover marks a turning point in her career. In the world of Hollywood, where reputations are hard to dispel, McNichol has suffered from bad press. Stories have circulated detailing supposed petulant tantrums and erratic behavior. When the actress became ill during the filming of her last movie, Just the Way You Are, production was stopped for several months while she recovered. The press speculated that the problem resulted from McNichol's reported temper tantrums and/or heavy drug use.
"I'm not a perfect person," she says very openly. "But it was none of that. When you're young and work all your life, you never have time to stop and find out what else there is aside from work, work, work and schedules. There's going to come a point where you're running after this ball for so long that you're just going to fall down because you're exhausted mentally and physically. I just fell down and was exhausted from working, pushing and striving. That's all it was. Since then I've learned to slow way down. I don't work half as much. Now when I do work, I'm in perfect condition and I'm really into working because I haven't been burnt out".
As she talks about her past and the stories that plagued her, it becomes obvious that the negative reports have wounded the actress and made her wary. Yet at the same time, she seems to have gained some peace of mind about her troubles and speaks of them without hesitation.
"I've been through a lot of things in my past," she admits. They were pretty heavy, or heavier than the average person goes through. When Alan and I met he asked me if I was emotionally ready to do a film like Dream Lover. I told him I knew I was. I'd been through a lot of things and I'd come out of them. I felt like I could handle it. I feel like I can handle anything now."
She'll soon be leaving for Manila to shoot "Women of Valor," a TV movie about five women and their friendship during WWII. Despite the shaky political situation in the Philippines, the thing that bothers her most about leaving is the barrage of shots required. "Everytime I go to the doctor's office I'm like a three-year-old," she grinned.

The experience of working with Pakula seems to have chased away some of the ghosts haunting McNichol. "Since he hired me,' she explaines, "I haven't had any problems with getting scripts at all." Nor is she afraid to seek out the directors that she wants to work with. In fact, the actress just sent a note to Woody Allen in the hopes she'll be able to work with him someday. "I want to work with strong directors. I think they teach you so much and they bring out the best in me. I'd love to work with Alan [Pakula] again. I'm so spoiled now," she says with a laugh. "I don't want to work with anyone but the Alans of the world."
(Note: Alan J. Pakula died in a car accident November 19 1998, at age 70. Nine years before that, Paul Shenar, who played her father in Dream Lover, had died. He was 53 years old. Paul Shenar also played in Family.)
Who's Your Fave Rave (1997) | Shooting the breeze part 1 | Part 2
Home | Pictures | Biography | Articles | Clips | The Pinballs | Trivia | Links | Sign guestbook | Read guestbook