The Pinballs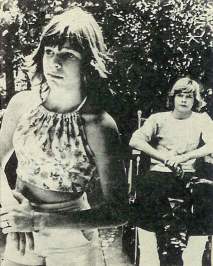 As much as I like the movies Kristy McNichol played in, The Pinballs is for me the most special part in Kristy's career. It is an ABC After School Special from 1977. It was the first time I saw Kristy and I was so impressed. The role of Carlie fits her so good. There are fantastic close-ups of her. And it's an honest story about friendship growing from a difficult beginning. It is based on the book by Betsy Byars. Here you will find everything known on Kristy McNichol appearing in the legendary The Pinballs.
Summary
Miss Harris drives Carlie to the Masons. The Masons have been foster parents for 17 kids already. Carlie thinks it's a stupid place and is sceptical. But she has to stay there until her mother and her stepfather work out their problems. Two other children arrive: Harvey, who has broken legs and Thomas J., who has grown up with two very old twin sisters who found him in front of the farmhouse when he was 2 years old. The twins are now both in the hospital. Thomas J. isn't unhappy, but has to learn how to express himself. He gets help from Mr Mason.
Harvey is very unhappy and needs the others badly, although he has trouble admitting that. Eventually he confesses his father ran over his legs with his car (at first he told everyone he was a quarterback and got tackled too hard). He argues with his dad about his mother, who lives in a commune. His father denies that she ever wrote Harvey back.
Harvey has a habit of making lists of the things that bother him.
Carlie at first feels neglected. She runs away, but slowly changes her mind. She takes the decision to take her fate in her own hands, and stop being a defenceless pinball. When Harvey is in the hospital, Carlie and Thomas J. give him a puppy for his birthday, which gets him through the pain. Carlie comes up with a name for the puppy: Quarterback.
Original versus abridged
The After School Special The Pinballs has a running time of 46 minutes and 14 seconds.
The Pinballs on 16mm film and on video (released in August 2001) has a running time of only 31 minutes. The reason behind this is unclear to me. It does mean that several scenes were left out in the abridged version:
- Carlie immediately going for the TV after arriving
- Mr. and Mrs. Mason talking about Carlie while dishwashing
- The three kids in front of the TV
- Carlie's first night, sceptic at Mrs. Mason
- Carlie brings Harvey a tray of breakfast
- Thomas J. writing a letter with one sentence
- Thomas J. and Mr. Mason talking about expressing love
- Carlie shouting to the car that startles her while she is running away
- Carlie and Harvey in the library
- Carlie and Thomas J. on the grass talking about Harvey in the hospital
- A really nice Carlie and Thomas J. first visiting Harvey
The DVD release of 12 October 2004 is unfortunately also shorter than the original version! Seven scenes were edited, for again inexplicable reasons. In a few cases only the intro of a scene was edited, but in other cases vital scenes were edited. Or better: mutilated! For instance, the essential scene were Carlie tells Mrs. Mason that they are only pinballs that can't help each other is 38 seconds shorter than the original!
All together the DVD misses 1 minute and 39 seconds.
Availability
For a long time the Pinballs was only seen on 16mm and in a few libraries maybe on video, but an official release on video is made in August 2001 by Disney Educational Videos. As stated above it is the abridged version and quite expensive too. Ordering information and preview
On 12 October 2004 The Pinballs is released on DVD, as part of a set of four After School Specials from 1976-1977. As stated above, this is not the complete version either. Review from tvdvdreviews.com
Available at various web stores.
The award
Kristy's 15th birthday was a special day. She won her first Emmy for her role in Family (to her surprise, as we could also see in the E! Special), but earlier that day she just missed out on the Daytime Emmy Award for her performance in The Pinballs, after being nominated.
John Doran (Harvey): "Excellent cast and crew"
I received an e-mail from John Doran, (or Johnny Doran as he was usually known then) who played Harvey. I really appreciated that! It gave me the chance to ask what he most remembered about the Pinballs.
John Doran: "I remember the Pinballs primarily for the excruciating pain I went through as they made the detachable casts--the "artist" they hired in Burbank didn't appear to have a clue what he was doing.
I also seem to recall finding it extremely peculiar that we shot the very last scene on the very first morning of the shooting schedule--it made it tougher chemistry-wise when I was being introduced to Sparky and Kristy for the first time and only an hour or so later we are filming the buddy-buddy, cheery ending.
I distinctly remember having to shut down the shoot for several hours while Sparky Marcus sulked because I made some joke about his height--I didn't know it was a sore spot for him.
I remember the show most for the excellent cast and crew. It was a great shoot and a wonderful story. I even dated Kristy after the show. (My older brother worked with Kristy as a guest-star on Family, but never managed a date :-) ) I didn't have nearly as much luck date-wise on my other Afterschool Special, The Wave."
The credits
Original air date: May 18 1977 on ABC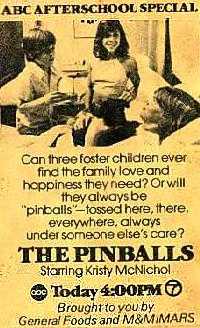 Original length: 46 minutes and 14 seconds
Released: never. Only abridged VHS and DVD versions (See above).
Starring:
Kristy McNichol as Carlie
Johnny Doran as Harvey
Sparky Marcus as Thomas J.
Priscilla Morrill as Mrs. Mason
Walter Brooke as Mr. Mason
Also starring:
Barry Coe
Beverly Hope Atkinson
Jacque Lynn Colton
James Chandler
(the credits do not state the role each plays, but it's: Harvey's father, nurse, Miss Harris, and policeman respectively)
Teleplay by Jim Inman
Based on a novel by Betsy Byars
Producer: Martin Tahse
Director: Richard Bennett
Associate producer: Fred W. Bennett
Music: Hod David
Director of photography: Bob Collins
Thanks Jim Mix for the promo picture!
The cast
Details about Kristy's career of course on the biography page and in the rest of my web site dedicated to her.

Johnny Doran (born 25 May 1962) started his acting career as early as 1965, played among other things in the TV-series Mulligan's Stew, and with Ingrid Bergman in the movie The Hideaways (or: From the mixed-up files of Mrs. Basil E. Frankweiler). He ended his acting career when he was 21.
Two sites with pictures of Johnny Doran:
The Z-Ride Young Actors site
Bob123

Sparky Marcus started acting when he was only 5 years old in "Sigmund and the Sea Monsters" TV series. Seven other series would follow, including "Mary Hartman, Mary Hartman", and The Bad News Bears. His acting career ended when he was 19. Pictures of him at Sparky Marcus page

Priscilla Morrill became famous for her role of Edie Grant in The Mary Tyler Moore Show. She played various roles for TV until 1987, including Family. She died in 1994, age 67.

Walter Brooke was 62 when he played in The Pinballs and had a long career behind him. In the same year he played with Kristy in Black Sunday (as we know Kristy's part was edited out eventually). He retired in 1985 and died a year later.

The black puppy (that Carlie and Thomas J. give to Harvey for his birthday) was called Pinball. A talent scout found him at the L.A. pound and kept him after the show.

More info at the Internet Movie Database
The pictures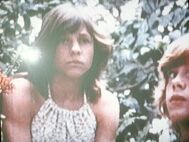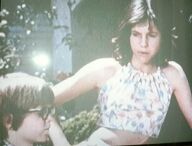 For the two stills above and the three below, I took photos direct from TV, so please don't look at the glare :-) The left picture above features Harvey, the right picture Thomas J.
The black and white picture on top of this page comes from the TROS TV-guide. It's Carlie in her famous halter top, and Harvey. Carlie is on the look-out for Harvey's father to arrive. For a larger version of the picture click here
These still shots come from Plaster Paradise, a club with a fascination for casts somehow.
Memorable quotes
(Mrs Mason meets Carlie) "And this must be Carlie." Carlie: "Well, it's not exactly Helen of Troy."
(When Harvey says he is a quarterback) Carlie: "You're no quarterback. If anything you'd be the ball!"
(When she is called by Mrs Mason) "The slave of the world is being summoned."
(When she sees Harvey infected toes) "Mrs Mason, come look at Harvey's toes. I'm not a nurse yet, but when I see bad looking toes, I know bad looking toes. And these are bad looking toes."
Any additional information?
I would be very grateful for any additions anyone can give me, any picture, story or info relating to The Pinballs! Thank you.
Also I would very much like to get in contact with anyone who has the video from Disney.
Please mail me at: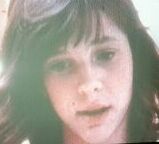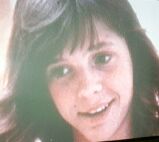 The book
The book was written by youth book writer Betsy Byars (born 1928). There is an official website for Betsy, which also has a page for The Pinballs of course.
Other links for the book: Carol Hurst and Foster Care: Children
The Pinballs in The Netherlands
It probably won't interest many people, but I want to tell it anyway. I saw The Pinballs on Dutch television, Saturday July 4, 1981 at 16:30. The channel was Nederland 1 and the network was TROS. The Dutch title was Drie vrienden ("Three friends")
To make it more confusing, when the book was translated and released in 1983, it was given the Dutch title De Zwerfkatten ("The stray cats"). Dutch book
Home | Pictures | Biography | Articles | Clips | Trivia | Links | Sign guestbook | Read guestbook