Kristy McNichol clips
Video:
These videoclips require Real Player
Kristy introduces Andy Gibb in Disco Fever (1977, re-aired in 1998 on VH-1) (0'38")
Kristy interviewed at an AIDS benefit (1992) (0'21")
Entertainment Television news item on Kristy Returning to Empty Nest and how she feels about it. (1995) (2'11")
Thanks Jim Mix for these clips!
LP's:
About the format of the sound files: read explanation
June 1978 RCA Records releases the Kristy and Jimmy McNichol album (RCA AFL1-2875) [picture thanks Jim Mix]. It's a sort of rock 'n roll album with a bit of disco and a slow song. Kristy is 15 years old at the time, Jimmy 16, so a little perspective is needed. But I like it.
The track list: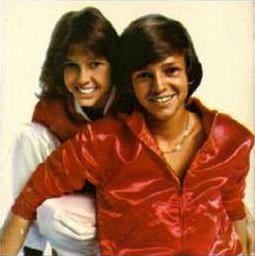 He's a Dancer (2'42'')
Page by Page (3'58'')
Girl You Really Got Me Goin' (2'19'')
Slow Dance (3'15'')
He's So Fine (2'14'')
Box on Wheels (3'43'')
Go for It (3'21'')
Rock & Roll Is Here To Stay (2'24'')
Hot Tunes (3'44'')
Track 4 composed by B. Feldman/G. Goldstein/R. Gottehrer
Track 6 composed by Ronnie Mack
Track 9 composed by D. White
All other tracks composed by Phil & Mitch Margo
Produced by Phil and Mitch Margo
Arranged by Mitch Margo
In 1981 a soundtrack for The Night the Lights Went Out in Georgia was released:
- Tanya Tucker - The night the lights went out in Georgia
- Glen Campbell - I love my truck
- Tanya Tucker - Rodeo girl
- George Jones - A little gettin' used to
- Tammy Wynette - Imaginary arms
- Dennis Quaid - Amanda
- Kristy McNichol - I need you strong for me
- Kristy McNichol & Dennis Quaid - Hangin' up the gun
- Instrumental - Melody's melody
- Billy Preston & Syreeta - It's so easy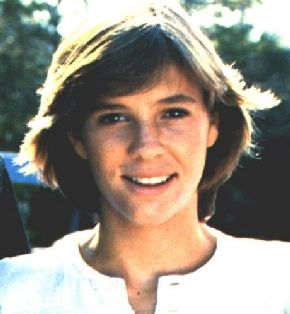 Picture: thanks Peter
In 1982 the Pirate Movie soundtrack is released on double LP. Kristy sings First Love (with Christopher Atkins), Pumpin' and Blowin' and Hold On. Happy Ending is sung by the entire cast.
Movies
1978 - The End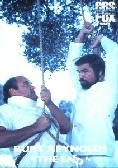 A cynical comedy by and with Burt Reynolds. Kristy McNichol as Julie Lawson, his daughter.
His messy life takes a turn as he hears from his doctor that he has a terminal disease. He will have a terrible end and decides quite quickly that he can't stand that and must commit suicide, to end with dignity. He doesn't want to tell his wife from who he separated or his lover Mary Ellen or his daughter or his parents, but visits them for a last farewell.
He visits his daughter when she is doing ballet. In the car, in front of their home, he tells he's going "away".

"you sound funny"(0'57'', 140K)
1982/1984 - Just the Way You Are
This movie is one of my favorites. And one of my alltime favorite scenes is this one. Peter has just boldly asked Francois about his leg and Susan wants to avoid the subject. She hits Peter with a snowball.
the snowball scene (1'13'', 178 K)
What the French word for 'help' is, Susan? Well, how about mayday (m'aidez)!!!
File format:
The sound files used on this page are MP-3 compressed wave files (.wav). Compressed because that will save you more than 75% download time and keeps the filesize reasonable. These files should be played by your browser and by the Soundrecorder (Windows) without problems. If you wanna test if it will try this (test, 3K)

Home | Pictures | Biography | Articles | The Pinballs | Trivia | Links | Sign guestbook | Read guestbook