Magazine articles
---
With many thanks to Bill !
November 20, 1978 People Weekly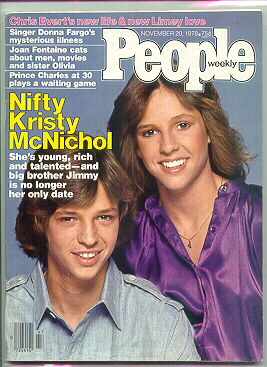 At Sweet 16, Kristy McNichol is up to her neck, but in hot properties, not water
She and her brother Jimmy did not exactly arrive in Hollywood with the legacy of Jane and Peter Fonda or the intellectual baggage of Shirley MacLaine and Warren Beatty. Still, actress Kristy McNichol has already produced a body of work of startling distinction. Last year, at just 15, she won an Emmy for what is arguably the most delightful and dimensional role on series TV, the tomboyish "Buddy" Lawrence on ABC's Family.
"There isn't another young woman in the acting field today who can touch her," proclaims no less a judge than Esther (Good Times) Rolle, who played opposite a maturing Kristy last month in NBC's ambitious drama Summer of My German Soldier. Kristy similarly awed co-star Linda Lavin in another October special, Like Mom, Like Me. "I learned from her," marvels Lavin. "She's not another kid playing at being an actor. She's a prodigy. She's got the secret." It's one that's already brought Kristy a following beyond the tube. Jane Fonda recently dropped by to watch her work and pronounced her "brilliant". Kristy's own favorite admirer, though, is Burt Reynolds, who personally phoned to compliment her (squealed McNichol: "Boy, let me tell you I'm a bigger fan of yours") and then cast her as his daughter in The End.
So much for getting one's feet wet. At 16 Kristy and big brother Jimmy, 17, are a supersibling conglomerate that will earn half a million this year. Jimmy was the original McNichol trouper, with dozens of TV commercial credits and series like Little House on the Prairie and The Fitzpatricks. Now host of a syndicated talk show, Hollywood Teen, he is getting stormed by fans of his own. Inevitably the McNichols have issued a pop-rock album, which bubblegummed into the Hot 100 and was launched by RCA at Manhattan's Studio 54. Even Burt Reynolds showed, but disappointed Kristy by boogeying out early to escape the mob.
Her interest in men is a further sign of Kristy's personal coming of age. She's had plenty of on-camera romance, including being propositioned on Family last month by Leif Garrett. Kristy thought the script rang false ("I can't imagine anyone saying to me, 'I've got my needs'") and is playing it tentative in her own life. "I think sex is a nice part of being in love," she says gravely, "when you're old enough to handle it." She may be getting there. "Kristy is turning into a real beauty," says her TV dad, James Broderick. "You can see the woman emerging." She just sprouted over 5'3" (Jimmy is nearly six feet), has been sneaking on eye makeup before Family tapings and just bought a Champagne Edition Scirocco to go with her new driver's license. (She already pilots an electric golf cart on the set and a Honda dirt bike.) Kristy is now permitted dates with boys other than Jimmy - as long as she's home by midnight. Though there's no one special, she had "a lot of fun" with actor Scott (Who's Watching the Kids?) Baio, 16, whom she met guesting on Love Boat. She and Garrett, 17, also attended a fund raiser at Hugh Hefner's mansion. "When I'm older and want to have a serious relationship, it will have to be mutual," she declares. "And I'll talk to my mother about it first." (Shades of Susan and Betty Ford.)
The closeness is genuine between Kristy and her mercurial manager mom, Carollyn, 36. A strict single parent whose carpenter husband split soon after the birth of their third child) Tommy, now 14, lives with his grandmother in Burbank), Carollyn "tries to keep my kids' feet on the ground." It's tough. When Jimmy recently tried to cadge a loan, Carollyn heard herself answering, "You have $10,000 in your checking account. Why are you asking me for money?" A touchier problem is "trying to keep things even around here," Carollyn explains. When Kristy's career vaulted to the top, Carollyn insisted that Jimmy be hired along with his sister for appearances like Battle of the Network Stars. Bookers got a choice: two McNichols or none. "For a while Kristy was getting the breaks, and Jimmy was really down about it," she says. But that's over now, Carollyn reports. "They have the usual sibling rivalry, which gets kind of loud at times."
Carollyn fumes at reports that she has stage-mothered her kids' youth. "I wish all the people who criticize me for slave-driving and forcing my children into an abnormal life could see what goes on around here," she says, insisting that both children got into acting on their own. Supporting her family as a secretary at the William Morris agency, Carollyn had begun auditioning as an extra and, at 7, Jimmy wanted to try to. His first commercial was for Band-Aids, and Kristy soon followed with McDonald's, Kentucky Fried Chicken and others. "I knew Kristy was serious about working when I took her to a Kraft audition," recounts Carollyn. "She hates cheese with a passion, but when the producers asked what the kids had for lunch that day, she answered, 'A cheese sandwich.'" Both kids leaped into prime time, with Jimmy doing S.W.A.T. and Gunsmoke and Little House - before Michael Landon personally booted him out of the cast after he accidentally flipped a pencil into a girl's eye. Kristy did Love American Style, The Bionic Woman and other guest spots before finding a home on Apple's Way en route to the Lawrence family.
Carollyn shrewdly invests each child's money in real estate, including condos in Malibu and Big Bear Mountain. She has also traded up the family's own homes, moving five times in the last six years. The current residence is a rambling four-bedroom ranch in the San Fernando Valley with a tennis court, pool and hot tub. (The McNichols, the most athletic Hollywood clan this side of the Van Pattens, also ski and surf.) Jimmy is setting up his own cottage to use on weekends - and plans to move in when he turns 18 next July. While he's picked up enough tutoring for high school equivalency (but hasn't taken the test yet), Kristy is still studying daily on her sets. In the last year the family has gained the additional steady presence of Max Morrow, a 32-year-old actor who's moved in with Carollyn. "Max understands me better than anyone," says Kristy. (She rarely sees her real father, though he lives nearby.)
The one aspect of Kristy and Jimmy's future that does seem predictable is their tax bracket. Carollyn, a ferocious negotiator (Family producers Aaron Spelling and Leonard Goldberg threw up their hands and let the network handle her), has won Kristy a five year, one million deal with CBS for five TV movies. And this season Kristy's Family take doubled from $7,500 to $15,000 per episode. Meanwhile, as insurance against Kristy pulling a disappearing "Farrah" act, Spelling has protectively already brought Quinn (Goodbye Girl) Cummings, 11, into the Lawrence family.
Jimmy just shot a two-hour CBS movie about Olympic ice-skating aspirants (scheduled for December) and plans to cut a solo album. He recently had one of his all-time fantasies fulfilled when four Oakland Raiderette cheerleaders he met at a Vegas telethon cooked dinner for him. That puts him one up on Kristy, who just added a near-life-size Andy Gibb cutout to her room (but loyally didn't remove Donny Osmond's picture). Star turns are off limits at home, decrees Carollyn. "They have to leave that at the studio. I guess we're all a little wacky," adds Mother. "But I'd rather have it that way than have the kids take it all too seriously."
SUE REILLY
---


March 31, 1980 People Weekly
Kristy McNichol leaves the 'Family' behind for a pad of her own and an 'R' rating
In its ceaseless search for new ways to excite, outrage and sell popcorn, Hollywood has lately found a new wrinkle on the old "Pillow Talk" percale. Two decades after Doris Day first said no, the burning question is no longer will-she-or-won't-she but how-old-is-she? Brooke Shields, who already stirred a succes de scandale as a 12-year-old prostitute in "Pretty Baby", will be back (and pregnant) this summer in a steamy remake of Jean Simmons' pubescent awakening, "The Blue Lagoon". Jodie Foster, 17, is raising eyebrows in "Foxes", an account of teenage girls hopped up on drugs and sex.
But neither of them can match Kristy McNichol, who has already faced more onscreen chastity crises in her 17 years than Day did through much of her career. It began 17 months ago on her ABC series, "Family", when Kristy fought off the scripted advances of guest star Leif Garrett. Then she encountered new boy-girl tensions in such strong TV movies as "Like Mom, Like Me" and "The Summer of My German Soldier". But now, in the unfettered '80s, Kristy has forever left behind her image as "Family's" tomboyish Buddy. In "Little Darlings" Kristy plays a street-savvy kid who pals with patrician Tatum O'Neal, 16, at summer camp. There, as the movie's campaign leeringly puts it, "The bet is on: Whoever loses her virginity first-wins." That theme is strong enough to guarantee the first "R" rating for an actress whose dying "Family" series was once one of the most intelligent and credible on the tube. Actually, "Little Darlings" is relatively tasteful, tepid and hardly justifies the lurid ad campaign.
The coming-of-age drama that most grips Kristy now is her own. As an actress on the way up, she will arrive at the April 14 Oscar ceremony-"limo and the whole shot". She has herself already won two Emmys and the admiration of co-stars like Burt (The End) Reynolds as perhaps the most gifted young actress in town. A woman who ought to know, Jane Fonda, calls McNichol "brilliant". As for the future, Kristy is now in the third year of a CBS movie deal stretching to 1982, including an upcoming Easter special on the network with her 18-year-old brother, Jimmy. Her Hollywood breakthrough could come starring as Christina Crawford in the adaptation of "Mommie Dearest", and even if someone else gets the part, don't feel sorry for McNichol. She is easily raking in $1 million a year. Though she has the income of an adult and then some, there is still enough of a kid in Kristy that a favorite dish is pepperoni pizza, and sex can be "ick". As for her own sexual experience, Kristy blurts, unblushingly but ambiguously: "Grand slam, baby!" More seriously, she confides, " I think sex is great if it's not exploited in a bad way. There is such a beautiful part of sex. I like to kiss. They say Virgos are not sensual or sexy. I feel sexy inside me. I just don't show it. Sometimes," Kristy sums up, "I feel stupid and young, a little kid. Then there's times when I'm feeling real adultish." Indeed, despite the tough persona that Kristy is now displaying, there is something touchingly teenage about her major concerns: independence, friends, clothes and boys, in about that order.
"I can't wait until I'm 18," she declares, and thus September 11 is "going to be the happiest day of my life." Her dream present is two plane tickets to London (the other is for a girlfriend). "I want to stay in the best hotel, the best suite, with no problems. I'm going to take a lot of money, and I want to blow it on clothes, on everything." She hasn't exactly denied herself the glad rags of late. She and Carollyn, her mom, recently spent $2000 during one shopping foray at Saks. (Kristy, 5'3", 103 lbs., is a perfect size 3.) A single parent long divorced from her carpenter husband, Carollyn, 37, broke the kids into commercials and then acting (a third McNichol, Tommy, 15, lives with his maternal grandmother in Burbank and displays no interest in showbiz). So she is now dealing for the first time with a maturing daughter. "We don't seem to agree on a lot of things," Carollyn concedes. Testifies Kristy: "There are little, stupid, petty pressures like, ''Who you going out with? When you going to be home?' Mom lets me do what I want now, but she knows when I'm lying. It's weird. It's like she can look right through me." So one major right of passage is at hand.
On April 14, before the Oscars, Kristy and her best friend, Ina Liberace (niece of same), will move into what McNichol calls "our dreamhouse". It is a $250,000 four-bedroom Cape Cod near "West Hollywood and all the good shops," says Kristy, who bought it four years ago. They have arranged for Kristy's father, Jim, to renovate the kitchen. Ina's mother will supervise the wallpapering of the house, just as she did for her pianist brother-in-law. "We're gonna have a bet on who's a better cook, have our friends over and judge us," says Kristy, who met Ina at a Westwood disco a year and a half ago and became pals. "A true friend of mine is someone who doesn't just want to be with the 'high life of Hollywood,' which is somewhat phony anyway," says Kristy. "I don't ever want anyone phony in my life. Ever." That night Kristy will attend the Oscars not with a beau but with her future housemate, Ina.
Most of Kristy's cronies now are part of her support system- Ina does her makeup, Joey Corsaro her hair, Tony Abbattista the clothes design. Mostly, Kristy admits, her friends are "older, because they know what's cooking, what they want in life- they're more like me." According to her mother, though, "Kristy is immature in some respects because she never had the opportunity to grow up with kids her own age. She missed the relationship of a bunch of girls hanging around together, and that's kind of sad. That's why I wanted her to work on "Little Darlings" with kids her own age." When Tatum arrived on the set, recalls Kristy, "I thought, 'Uh oh, I'm gonna meet someone who I have not heard good things about.' But she's so nice. Everyone has their moods -I do too - but most of the time we got along all right." Only occasionally did they get into one-upmanship ("I'm not on a head trip," asserts Kristy). When McNichol was directing an off-hours cast variety show, O'Neal couldn't participate, but later backed Kristy up when the other kids complained that she was a slave driver. "She's a perfectionist," explains Tatum. But Kristy still bursts out defensively, "You know, Tatum thinks I'm square, but I'm not. I just don't like to do the same things she does." The movie crew, as it happened, preferred Tatum's quiet but polite reserve to Kristy's more impatient and sometimes disdainful moods. In one moment of boredom, Kristy gunned her car into nearby Madison, Ga. and jumping the curb, tore a large "donut" into the grass on the town green. Confronted by angry police, the embarrassed production company later apologized (as did Kristy personally). "I'm just relieved that if my daughter has to be a rebel, she's ruining grass instead of taking drugs," says Carollyn.
Kristy has succumbed to some of the lures of her age and stardom. She learned to smoke for "Little Darlings" (Tatum helped). Kristy still hasn't received her high school equivalency degree from her on-set tutors (it's due in June), and unlikely, say, Jodie Foster (who's applied to Ivy League school for this fall), Kristy has no interest in higher education. Her mother has been occupied of late with her new German beau, Siegfried Lucas, 27, but continues to run Kristy's career and choose her parts. (As befits her TV recognition, Kristy had first choice over Tatum for "Little Darlings" leads and deliberately chose the troublemaker role.)
She is currently shooting "Blinded by the Light", a CBS movie with brother Jimmy about two kids caught up in a religious cult, and carefully mulling over other film offers. "I don't ever want to have a flop or be a flop," she says fiercely. Kristy eyes the poster of John Travolta still on the wall of her bedroom in her mother's Tarzana house (most of her stuff is boxed and ready for the move) and reflects, "He's not really down now." Then she regresses to a previous idol. "Just because I loved Donny Osmond before is not why I'm saying this, but he has the prettiest brown eyes I have ever seen." She looks despairingly in the mirror at her own face, with its soupçon of mascara, blush, and lip gloss. "I think my nose is fat," she decides. "It kind of sticks out farther than it should. I think my lips are too fat too. I wish I had them a little thinner. I want curly, crazy hair. I have straight. You always want something you don't have," she sighs. But, if nothing else, time will inevitably grant Kristy McNichol her fondest wish: She'll be grown up.
Karen G. Jackovich
---
Feb 19, 1981 BRAVO
Kristy was very popular in Germany. BRAVO, although mostly a pop magazine, also had a award for the most popular movie and TV personality, the Ottos. In 1979 Kristy won silver in the TV competition. In 1980 she won the movie-award.
One lucky fan, Yvonne Geisler from Munich, was invited to present her the prize and spend a day with her. Here is the translation of the reportage:
'Yvonne Geisler from Munich, is the only fan who was allowed to come in Kristys house in the Hollywood Hills near LA thus far. She sat by the swimming pool with Kristy, was showed around the house and ended up in the basement under the living room, where Kristy has a microphone and a professional amplifier. "In this room I often practice with my brother Jimmy", Kristy says. "Whether you believe it or not: my biggest wish would be to whirl around the podium like Rod Stewart".
Before Yvonne realized, Kristy grabbed the microphone and gave a demonstration of it. "In my new film, 'The night the lights went out in Georgia', I sing three songs as a country and western singer."
Three years ago already Kristy tried to realize her rock-career dream. "With my brother Jimmy I recorded the LP 'Kristy & Jimmy'. But that record was rather terrible. Thank God it isn't for sale anymore." For fans it is a popular collectors item since.
Yvonne also experienced how much activity is going on at Kristys house: the phone is ringing continually, people come and go. It's Kristys aunt Holly (who, besides her friend Ina Liberace, lives with Kristy), her secretary or her grandfather 'Hap', who helps when necessary as a craftsman.
Later Kristy drove Yvonne to her Japanese favorite restaurant.
"Don't forget", Kristy said as she said goodbye to Yvonne and got in to her blue Alfa Romeo sportscar, "soon I will be able to speak German, since I now have a German step father. One sentence I already know: Ich liebe dich." (= I love you)
Click here for the picture of the wedding of her mother Carolyn with Siegfried Lucas in Malibu on 31 January 1981. In this little article in German magazine BRAVO it says: "McNichol wedding: a German daddy for Kristy". From left to right Tommy McNichol, Siegfried Lucas with adopted daughter Jennifer (10 months old), Carolyn, Jimmy and Kristy McNichol.
---
May 9, 1983 People Weekly
Caught in a terrifying spiral of depression, Kristy McNichol is rescued by big brother Jimmy
Last December, with only 17 days of shooting remaining, Kristy McNichol walked off the French Alps location of her eighth movie, I Won't Dance. In a terse statement, MGM/UA President Freddie Fields announced that the studio was suspending production "indefinitely" because Kristy, 20, was suffering from a "chemical imbalance" that made it impossible for her to continue working on the $16 million film. Hollywood abhors a vacuum, so the gossip mill filled it with rumors of drugs and a total breakdown - all false. But clearly, Kristy was not in good shape. "She was just a physical, mental wreck," says brother Jimmy McNichol, 21. If Kristy had carried on in the movie, he adds, "she might never have worked again."
When she returned to Los Angeles Jimmy rushed to her rescue, moving out of his San Fernando Valley hilltop home into the small West L.A. condo owned by his sister (Kristy to her fans, Kris to her friends, Krissy to her big brother). "He talked to her for hours on end, slowly helping her to regain her confidence," a friend reports. "She kept saying that Jimmy was the one who had pulled her through." "I am getting back into shape," Kristy herself said a few weeks ago. "I am getting better." "A lot better," adds her mother, Carollyne McNichol Lucas. Kristy proved it to Hollywood at the Academy Awards when she showed up with her Little Darlings costar Matt Dillon to present an Oscar.
Until this year, the notion that Kristy would be teetering on the brink of a breakdown seemed about as likely as Donny Osmond free basing. Her talent had already won her two Emmys for her role as the tomboyish Buddy in ABC's late - 1970s heart-tugger Family. When the series went off the air in 1980, Kristy scored big at the box office with Tatum O'Neal in Little Darlings and Neil Simon's Only When I Laugh. Meanwhile she recorded a hit single (He's So Fine) and a disco album with Jimmy. She was even planning a fitness book, which has been on hold. "I mean," says her mother, "you can't do a health- and fitness book with all this going on." "All this" was helped along by back-to-back critical and commercial disasters: The Pirate Movie in 1982 and White Dog, which Paramount shot two years ago and has not even released domestically because of the film's controversial racial theme. Then came the part of the handicapped flutist who falls for Michael (Making Love) Ontkean in I Won't Dance. "Kristy told me that she would finish the film if she could," says her mother. She couldn't - not because of drugs; all agree that Kristy is not involved in Hollywood's snow biz. But she was being buried under an avalanche of career demands. "Kristy had built up this fear," observes a friend, "that if I Won't Dance bombed, her career would be over. She thought if it failed, she'd take all the blame." Kristy had always coped with the demands of being a star (she has commanded up to $1.6 million per film) and was praised as a pro who was always in control.
This time, however, that mysterious "chemical imbalance" robbed her of it. Kristy simply had to leave the movie, Jimmy says. "It was either that or she would have been in a mental hospital. She was completely blacking out and losing her memory. If it had kept up, she would have blanked right out of this whole business." A studio source called Kristy "a bag of nerves. I have never seen anyone so hyper, and then she would go into crashing depressions. The talk around the studio was that she was manic-depressive. She could not sit still for a minute at a time and would talk waving her hands about in the air like a crazy person." As another friend put it: "She could not face another day on the set; it was a simple medical fact that she could not work anymore." Kristy's mother says that her daughter has seen five "top" doctors. "She's been to UCLA," Carollyne says. "She's been everywhere." Jimmy reports that Kristy came home "thinking she was hemorrhaging in the brain. She was getting weird rushes of blood." She spent a couple of weeks in a hospital and, according to Jimmy, underwent a CAT-Scan (a computerized X-ray). But the doctors, he reports, found that "she was not hemorrhaging or anything." It was, he says, something going on in her mind.
Precisely what McNichol suffers from is not clear. "I just can't talk about it now," says Kristy. But, she adds, "I have nothing to hide." Some friends say she suffered a nervous collapse brought on by too much work, not manic depression; others say just the opposite. Jimmy is noncommittal: "I'm not sure how the doctors put it in their language." The two rumored diagnoses - manic depression and a nervous breakdown - can look the same to laymen, but they are not. A breakdown is a generic term for the inability to handle pressure and stress. Manic depression is a particular sort of breakdown, marked by a chemical imbalance in the brain and extreme mood swings. In early manic phases, victims are euphoric and energetic; their minds "race". They also can have flashes of creativity - Abraham Lincoln and Winston Churchill are thought to have been manics. The manic phase escalates until the sufferer loses touch with reality, a condition that 1 to 2 percent of Americans have experienced, according to Dr. Robert Gerner, chief of psychiatric research at the Veterans Administration Medical Center in Long Beach, Calif. "These people do not sleep at all; their thoughts are bizarre or grandiose," he says. "They can ruin their whole career in this state." Manic depression often strikes its victims in their 20s. And once it strikes, it can last a lifetime. Fortunately, with the proper care, the prognosis for a manic-depressive is excellent. "It is the most treatable of all psychiatric diseases," says Dr. Michael Gitlin, medical director of the Affective Disorders Clinic at UCLA.
Whatever Kristy has, Jimmy thinks the doctors have caught it in time. She's getting back on her feet. "As a matter of fact," he says, "she's looking for other material now" for work. Her progress thus far is as much to Jimmy's credit as the doctors'. Carollyne says that Jimmy's decision to move in with Kristy was an effort to "let her know, 'Hey, the family is here for you.'" Jimmy grants that he wishes he were still in his own home. But as he says, he has only one sister and "I can always get another house." After time and care, Kristy was well enough to travel to Palm Springs and Hawaii; then Jimmy took her to the John Denver Celebrity Ski Classic at Lake Tahoe. Not long after, Academy Awards producer Howard Koch Sr. invited her to the Oscars. "Hollywood," he says, "does have a little heart, you know."
Through all this, acquaintances say, Jimmy has matured. In fact, both brother and sister always have had to rely heavily on one another for emotional support. Kristy's mother and carpenter father, Jim, divorced when she was only 3 and Jimmy 4. (Carollyne recently married her German boyfriend, Siegfried Lucas, nine years Kristy's senior.) "I don't think the fact that I really didn't have a father affected me," Kristy once said. "I do see my father. I think I've had a normal upbringing. I'm not like some star." She got her first job at 8, starring in a Kraft commercial, which led to appearances in TV series from The Bionic Woman to Love Boat and to her role in Family. Jimmy, meanwhile, had a short-lived series (California Fever), and he acted in a TV movie (Blinded by the Light, with Kristy) and a flopped feature film (Momma's Boy).
"At one stage I sat the kids down and told them if it stopped being fun, then it just wasn't worth it," Carollyne reports. "They both said okay, they could handle it." Their brother Tommy, 18, a college computer whiz, avoided showbiz. Kristy called herself normal, but she knew that her childhood wasn't quite as all-American as the roles she played. "I've had to grow up quickly," she admitted a few years ago. "Everyone is at you - lights, hair, camera, directors, producers - and there is only one of me. They are all pulling at me for different reasons." She admits that sometimes it got to her. "Sure I have moods, everybody does," she said. "That's normal, that's human." At 18, Kristy had moved into her own $1.7 million home overlooking Beverly Hills, starkly decorated in black and white, stainless steel and glass, and equipped with elaborate stereo and video systems - even a $2,000 talking robot. She has roomed alternately with Liberace's niece, Ina, and with Joey Corsaro, her hairdresser. She liked the L.A. life - going to sushi bars and hitting such hot video discos as Revolver at least once a week. "
She was spending money like water," says a friend, "buying cars [her motor menagerie has included a Jaguar, a BMW, a Honda and a Fiat Spider] and clothes. But that was not making her any happier." She moved out of the Beverly Hills house and into her condo shortly after her return from France. What mattered most to Kristy was sustaining her career. "I don't want to ever have a flop, be a flop," she has said. "I'd hope that it could go on forever like this."
That was before The Pirate Movie and White Dog, as one friend put it, "completely destroyed her confidence." "It was just too much," explains Jimmy. Most teenagers get a chance to relax. All Kristy had was work and more work - "one thing after another." Now, says her brother, Kristy realizes she must follow a prescription from her doctors: "She's got to stay on a strict diet" - a work diet - "not being so involved in her career and just take time out for herself." Her friends and fans expect to see her again. But, cautions one producer, "Anybody who leaves a movie with just a few days to go, without virtually being on their deathbed, will find it very hard to get hired." I Won't Dance was insured against such eventualities. "The big problem is insurance," he continues. "And if you have someone with a bad track record it is almost impossible to get coverage." But he adds: "I have not heard that the word is out on Kristy McNichol." "There is no sin in being sick," counters one friend. "All Kristy is asking for is another chance. She may be a veteran actress because she has been working at it for so long, but inside, she is vulnerable." Not that the "vulnerable" star is about to be defeated by depression. "This," she vows, "is not the last you've heard from Kristy McNichol."
Written by Jeff Jarvis, reported by Malcolm Boyes and Karen G. Jackovich
[Note by me: I Won't Dance was released later as Just the Way You Are]
---
October 26, 1992 People Weekly
Debilitated by manic-depressive illness, Kristy McNichol temporarily flees Empty Nest DOWN, NOT OUT
"I wanted to do something different," is how Kristy McNichol explained her decision, in 1988, to star in the NBC sitcom Empty Nest after an Emmy- winning career as a dramatic actress. "I'd done so much crying." Comedy, as she had hoped, proved curative. The hit series rehabilitated McNichol's career, which had sagged after her much publicized breakdown in 1982, when she walked off the set of Just the Way You Are 17 days before the feature film was scheduled to wrap. And Empty Nest aided in her recovery. By 1989, McNichol was able to say, "I feel like I'm this mountain of strength." But that mountain crumbled late last month, when the 30-year-old actress took a sudden medical leave from Empty Nest. Executive producer Tony Thomas says he was informed of McNichol's voluntary hiatus by her physician, who said the actress was having difficulty managing her manic-depressive illness. Thomas recalls that he was "stunned," having seen nothing in McNichol's demeanor on the Hollywood set to indicate she was struggling. "There were absolutely zero outbursts," he says, denying tabloid reports that McNichol, who plays the series' undercover cop, Barbara, had been behaving irrationally.
In McNichol's absence, the sitcom will introduce Barbara's younger sister Emily (currently being cast), who has been off-camera attending college throughout the show's five-season run. Still, says Thomas, "we very much want Kris back when she feels strong enough to work, but that has to be totally determined by her."
Determining what is in one's best interest can be difficult for those suffering from bipolar disorder, the form of manic-depressive illness afflicting McNichol. Caused by a chemical imbalance, the illness results in mood swings from euphoria to disabling depression. During its manic phase, says Dr. Michael Gitlin, director of the Affective Disorders Clinic at UCLA, a person may sleep only two hours a night, talk incessantly and exercise poor judgment, "spending money foolishly and engaging in other forms of reckless behavior." Bipolar disorder cannot be "abolished," says Dr. Gitlin, but mood stabilizers such as lithium can "substantially decrease the severity and number of episodes."
Though it is not known if McNichol is taking medication, she is recuperating at her Sherman Oaks home with her mother, her actor brother, Jimmy, 31, and her friend Martha Allen, 26, all at her side. Typically manic-depressive illness first appears in early adulthood, triggered by stress. Such was the case for McNichol. Acting since the age of 8, she won two Emmys for her portrayal of the tomboyish Buddy on Family. By the time she hit the set of Just the Way You Are in the French Alps, she was 20 and working on her eighth movie in six years. "The whole month I was in France," McNichol has said, "I hardly slept.... I was freaking out, crying, confused." When production halted for Christmas, McNichol returned home to California and stayed. With intensive therapy, she returned to work and finished the film a year later. Still, her career was damaged by rumors of drug and alcohol abuse.
After her breakdown, McNichol found solace in anonymity, working briefly as a hairdresser. Hollywood, she discovered, could be unforgiving. Time after time, she told PEOPLE in 1989, she would be hired for a part, but "at the last minute somebody would say no to me because of my past." It was Empty Nest that finally said yes. "We love Kris," says an emotional Thomas. "We're so fond of her it's ridiculous. She never let [her illness] affect her work. She never hid behind it. She just delivered. And I think that is truly heroic."
Shelley Levitt Joyce Wagner in Los Angeles
Home | Pictures | Biography | Clips | The Pinballs | Trivia | Links | Sign guestbook | Read guestbook