Kristy in 'Who's Your Fave Rave?'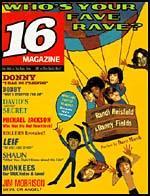 A book by Randi Reisfeld and Danny Fields, Boulevard Books, August 1997.
Thanks Elisabeth for the scans.
---
Years of 16 Popularity: 1977-1980
Kristy McNichol grew up on screen, and in the pages of 16. Through her years on the tender TV drama Family, and later in movies like Little Darlings, Kristy became one of the top girl teen idols of the decade. In the late '70s she was the only female teen idol written about regularly in 16's pages. Although the raw talent was there - she won an Emmy Award for her portrayal of Family's Buddy - Kristy also had all the right ingredients for teen idol stardom: she wasn't an intimidating glamour babe (see: Brooke Shields), which meant she wasn't out to "steal" the boy heartthrobs of the day (see: Brooke Shields). She seemed, instead, every inch the "Buddy" next door, the girl with the perfect "Family", someone you could dish with and confide in.
"That is very much who I was", Kristy allows today. "It wasn't a manufactured image. It was cutesy, but honest."
Speaking of honesty: now it can be told: she kind of was, in fact, "stealing" the heart of at least one teen idol peer. "Scott Baio and I were a serious little couple at 13 years old", Kristy admits.
Today, after taking a much-publicized break from acting (she bailed out during the last season of Empty Nest due to emotional problems), Kristy is poised to return to the business. She is also a familiar face on the charity tennis circuit and an active fund-raiser for ChildHelp USA because, she says (echoing a very Buddy-like sentiment), "Giving back is really important".
Kristy McNichol On The Spot!
"On the Spot" was a 16 stock story - a way of answering actual letters from fans, while dispensing "the fax" about the star. Just as Kristy was a willing correspondent back then, the now 34-year-old good sport allowed us to put her "On the Spot" once again.
Did you think it was cool to be in 16?
I thought 16 was cool! I actually bought it every month - I remember so clearly running down to our local market, the Universal Star Market, every month to grab the latest copy and paste David and Donny pinups on the inside of my notebook, in that clear-plastic protective wrapping. I was a big David Cassidy fan and later a Donny Osmond fan. When I was in it myself, it was fun, but I never took it that seriously. I wasn't a big deal. I just wasn't into myself as a kid, or later as a teen.
Did you ever get to meet David or Donny?
I did [meet Donny], and it was a dream come true. In fact, before I met him, I was a bigger David Cassidy fan. But I visited the set of the Here's Lucy show, which my mom, Carolyn was acting on, and Donny must have been a guest star or something. He was so great, so cute, a little prince. Later, I met the whole family, when my brother Jimmy and I guested on The Donny and Marie Show. Everyone was so wonderful, I wanted the Osmond family to adopt me.
In 16 you were always "the girl next door", not sexy or glamorous. How did you feel about that?
I felt very comfortable with it. That's who I was - kind of a fun, outdoorsy, active, sports-loving, girl-next-door type, that's exactly what I was. The thing about 16, and this is how it was different from other magazines back then - and certainly now - is that it gave the public the idea who these stars really were. It wasn't fluff, and it wasn't "let's point out the negative". Yes, it was cutesy and it was simple, but it was honest. With 16, you really got how a person was. I wish we could go back to those days.
What about you in real life - was it reflected accurately in 16?
If people had misconceptions about me, it wasn't because of 16. It was just the natural tendency of people to confuse actors with their characters. And the one I played on Family, little Buddy, was smart, together, nothing was ever wrong, she had all the answers, she was the best friend everybody wanted.
Well, in real life, of course, I wasn't all that. Buddy was an exceptional character, I was human! I didn't have all the answers, I wasn't perfect. I'm still not. Living up to the pressure of being perceived as someone more perfect than you actually are was sometimes hard.
I sent you a letter in 1977... did you ever see any of that mail?
I read a lot of it, before it got overwhelming. When that happened, when they started delivering it in sacks, I hired a professional service to deal with it and at least make sure everyone got a response. I tried to read as much as I could; I felt that was important.
You were more famous than a lot of the guys 16 wrote about, but you never got your photo on the cover - did that used to bother you?
No, because being a fan, too, I understood better than anyone that boys were who the girl readers wanted. Besides I just wasn't that vain.
Do you feel you missed out by not going to regular school?
I actually spent a lot of time in a regular classroom, but for the most part, I was tutored on the set of whatever TV show or movie I was working on. I really did like both situations. I liked mixing with kids, but when I was tutored it was only three hours, as opposed to eight in a classroom, and in those days, that was appealing. I don't think I missed out per se, but my education was probably compromised because of it. I've heard other working kids complain about being in a regular classroom because they get teased, but I didn't encounter a lot of that. When I was in Apple's Way, some kids taunted me, "There's that little Apple girl." There was one boy who was a bully, but I'd just punch him out after school!
What effect did being a 16 teen idol have on your career?
I didn't encounter negative industry perceptions, so it never hurt me in terms of my career. If anything, it helped, certainly in terms of a fan base. They get to know who it is they're watching - then, they grow up and they grow with you. Once you hook into being a fan, you're always a fan. I know that from being on both sides of it. Someone I idolized way back then, I still want to see today - I jumped at the chance to see Donny Osmond on The Rosie O'Donnell Show.
Was there ever anything between you and your Little Darlings co-star, Matt Dillon?
We were friends. What I remember most about Matt was the night the entire cast went bowling and he taught me how to smoke cigarettes - "the cool way".
What about the rumor that you were dating Scott Baio?
That one was true.We were a serious little couple when we were 14 years old! We met on a Love Boat episode and we really hit it off. The ship really was sailing on the sea, and we'd constantly have to ditch my little brother Tommy so we could kiss behind the curtains of the big ship. I run into Scott all the time now, at coffee shops... he's after all the sexy blondes now; we don't hang out.
Did you feel pressured to keep up a certain image?
No, because the image portrayed really was me. I did at times feel pressure to keep working, though. I felt, "You know what, everyone's looking at me, going, 'Come on, get another role.'" That was hard sometimes.
Did 16 ever write anything about you that embarrassed you?
No, but I didn't like how I looked in some of the pictures. I thought I had a tendency to look goofy.
Do you have any message for your now grown-up fans?
Just this: If I had kids, I'd rather they read 16 over any other celebrity-oriented magazine. 16 captured a real honest, nice truth and made it fun. I wish more publications were like it.
Kristy on the spot, in November 1978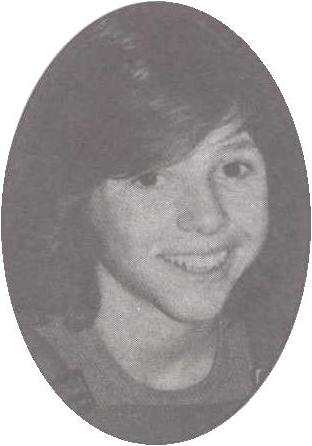 Schooldays?
Dear Kristy,
I'm curious about how you go to school - where do you find the time when you're busy acting on TV? (Ginger McCauley Stanhope, Ia.)
Dear Ginger,
Actually I go to school right in the middle of filming Family. I have a tutor right on the set and I spent at least three hours of every day studying with her. I kind of like that arrangement, though sometimes it's lonely. But whenever there's a guest star on the show who's under 18 she or he get to "go to school" with me for that week!
Worst habit?
Dear Kristy,
I read so much about you all the time and everything seems so perfect. Is it true, or do you have any bad habits? (Tara Kingston Norman, Ok.)
Dear Tara,
Sure I have bad habits, just like anyone else! Sometimes I get moody, you know, everyone has their moments - but I guess my worst habit would be a toss-up between biting my nails (they're really bad!) or my constant "cleaning up". People don't seem to appreciate my whisking away a glass or something before they were finished with it!
Fave actors & singers
Dear Kristy,
You are my fave actress, but I was wondering - who are your favorites? Also, who's your favorite singer? (Janie Horowitz Atlanta, Ga.)
Dear Janie,
I have lots of favorites - let's see, I guess my all-time best actors would be Kris Kristofferson, Barbara Streisand and Lucille Ball. As for singers, my favorite group is Chicago. And thanks for the compliment!
Dates?
Dear Kristy,
I'm confused - I read in a magazine that you're not allowed to date until you're 16, but then I saw pictures of you with different guys, like Scott Baio and Jeb Adams. What's the story, do you date or not? (Matt Bryanson Tallahassee, Fl.)
Dear Matt,
I didn't actually start single dating until just recently (I turned 16 on Sept. 11). Those pix that you saw of me were mainly going to parties and my mom was always close behind - so was my brother Jimmy! I like to go out and have a good time with a lot of people, I'm definitely not serious about any one guy!
Vital statistics
Dear Kristy,
I've seen a lot of articles about you, but I still don't know how tall you are, how much you weigh and what color your eyes and hair are! (Kim Volare Columbus, MT)
Dear Kim,
I think I can help you out on that one! I'm 5'2½" tall, weigh about 95 lbs. and I have brown hair and dark brown - almost black, really - eyes!
How did she get started?
Dear Kristy,
I just became a fan of yours so I don't know a lot of stuff. Could you tell me how you first got started in showbusiness? (Laura Sommers Pittsburgh, PA.)
Dear Laura,
I kind of fell into it in a way. See, my mom did some acting when we were very small and she used to take us with her whenever she got a part. Pretty soon Jimmy and I got interested and mom agreed to let us try. We started off in commercials - I got my first job when I was eight.
Parental rules
Dear Kristy,
Do you ever have fights with your mom? I do sometimes and I was wondering about you. I mean, you seem to get along so well - is she very strict or not? (Stefanie Schenker Wausaukee, Wi.)
Dear Stefanie,
Let's say we have some disagreements sometimes. I can't really call them fights. And yes, my mom is what I'd call strict - like there are only certain movies she lets me see and she insists I go to bed by 11:30 on weeknights. She also doesn't want me wearing too much make-up. Basically I listen to her, even though I don't always want to.But she is my mom, after all!
Fave colors
Dear Kristy,
I'm one of your biggest fans and I know a lot of stuff about you, but I don't remember reading if you have any special favorite colors. Do you? (Tommy Goodson Longville, La.)
Dear Tommy,
I sure do! Red, blue and purple are my faves and even though I used to have a crush on Donny Osmond, that is not the reason I love purple. I just do!
Sports
Dear Kristy,
I know you're very athletic and are good at all kinds of sports, but what's your favorite? (Lynette Wathens Oaklawn, Ill.)
Dear Lynette,
Let's see - I like baseball (I am a Dodgers and Steve Garvey fan), basketball and football. Also skiing, speedboating and my latest fave is skateboarding.
Fan mail
Dear Kristy,
I know you get a lot of fan mail - do you ever read any of it? And do you ever answer anyone's letter? Where can I write to you and be sure you'll get it? (Erica Dunsberry London, Ontario, Canada)
Dear Erica,
'Course I read my mail - that is as much as I can. It's fun and some of it gets answered. But even if I don't get to answer all of them, I want you to know that I appreciate getting 'em! You can write to me at ABC-TV, 4151 Prospect Ave., Hollywood, Cal. 90027 or c/o Don Schwartz Assoc., 8721 W. Sunset Blvd., Los Angeles, Cal., 90069.
Well, that's about all I have room for now - thanks for writing! Love, Kristy.
(The rights of the article(s) belong to the authors/publishers.)
Home | Pictures | Biography | Articles | Clips | The Pinballs | Links | Trivia | Sign guestbook | Read guestbook